ZH - Camere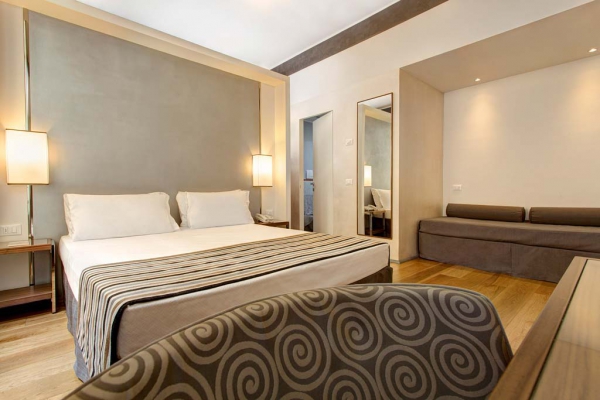 The Classic rooms at Hotel Orto de' Medici are intended for those who love comfort without excess.
Although these rooms offer no garden view, they have been completely renovated to give you more space, comfort, and light. The floor is parquet, in place of a closet you'll find a modern bare clothes-rack, and the bathroom with shower is in a wonderful amber and duotone marble: ideal for a warm shower between city strolls.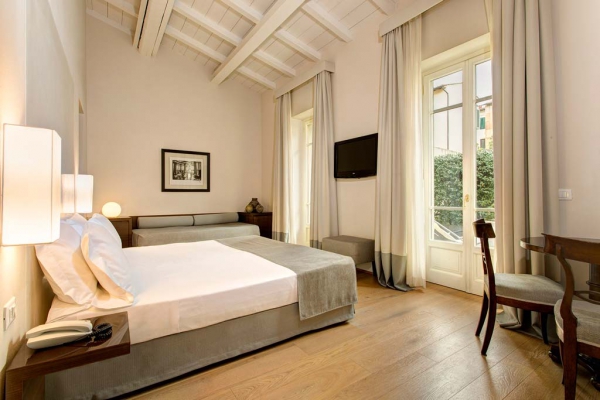 The Deluxe Rooms are special as they all look out over the hotel's historic garden. So in winter you can enjoy a rare spot of greenery in the heart of Florence, while in spring you can relax among the scented white roses that blossom in the shade of the ancient cinnamon tree.
As with all our rooms, the Deluxe rooms have just had a complete makeover: the headboards of the beds feature precious silver wallpaper or glossy white stucco, and the bathrooms have been completely redone in brown Rapolano stone. As we take care of every detail, these are the only rooms in which you'll find a courtesy set of Italian organic olive-oil based toiletries.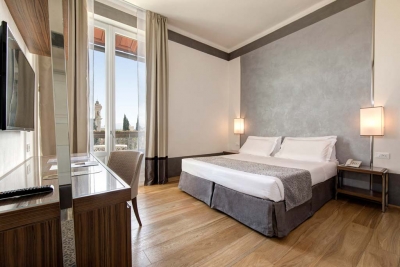 The dazzling view you can enjoy from the balconies over our Superior Rooms is a real exclusive luxury. Only few hotels in Florence city center can boast the same wonderful view over the roofs and bell towers, ranging from the Cathedral's Dome and the Medici Chapels up to the legendary hills surrounding the city.
Each terrace, surrounded by elegant evergreen plants, and equipped with wrought iron chairs and table, is a perfect place to enjoy a unique glimpse of Florence, one of the most beautiful cities on Earth. On the other hand, the wide indoor spaces, furnished in classical Florentine style, guarantee all the privacy and comfort you may need.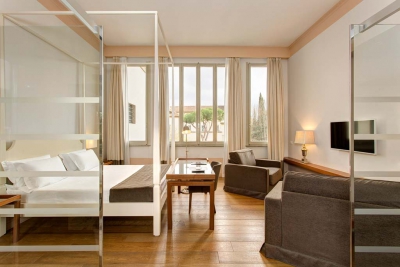 Our Junior Suites are our most spacious rooms and overlook the historic garden of the hotel, making them fresh, airy, and full of light.
After the recent renovations, the Junior Suites have taken on a modern, minimalist style, but without losing thechic, sophisticated charm of this historic palace.
You'll be surrounded only by relaxing colors, blending from dove-color to chocolate, silver to gray, while the center of the room is enthroned by a king-size bed or bed with canopy: just ideal for diving into after a long day-trip.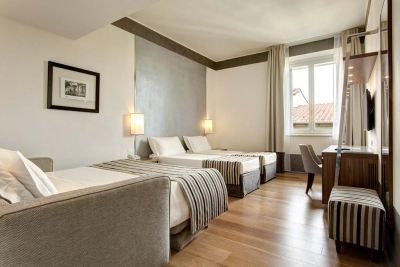 If you are traveling with your family or a group of friends, the Quadruple rooms are the ideal choice for you. These offer plenty of space and light, as most of them back onto the hotel garden which offers a splash of green in any season.
They have been recently renovated in favor of essential and contemporary furnishings, so in your free time you can relax fully among beautiful things.